A history of over 30 years, made of research and innovation.

LorAn Engineering is an historic brand created in 2001 and that has gathered experience in engineering and biomedical sensors of a group of professionals that coordinated by Eng Casadio has led to the development of equipments for the analysis in the orthopedic field. The collaboration with leading specialists, physiatrists, physical therapists, with the Universities of Bologna, Rome, Genoa and Hospitals internationally recognized as the Rizzoli Orthopaedic Institute of Bologna, allowed LorAn Engineering not to isolate itself in its business reality but to be always in the forefront.

From these collaborations were born the first pressure platforms to evaluate the foot arch and for stabilometric Analysis. The constant relationship with leading research centers and openness to the ideas of brilliant graduates has always been combined with the experience gained so as to allow the development of innovative products in line with the latest technology. With over 5,000 systems installed worldwide LorAn stands as one of the most established brand in the market.
The new website for the Specialists.
Coming soon the new site of the Letsense Group factory Loran Engineering, that develope the scientific products, where to get detailed informations for the products in costant evolution.
Shortly we delivery a series of webinars to promote the learning of functionality with case history analysis.

Go to Loran Engineering site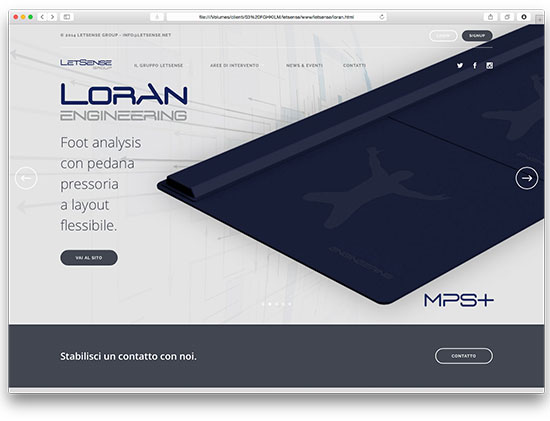 Science and Technology of the movement for research, for medicine and for sports